Introduction of colored stone tiles:
The color stone metal tile is produced by high-tech, with aluminized zinc steel plate with excellent corrosion resistance as the substrate, water-based acrylate as the binder, sintered colored sand as the surface layer, and acrylic resin with strong weather resistance A new premium roofing material for the outermost layer (equivalent to paint). Because of its beauty, lightness, durability, and environmental protection, it has become the mainstream product of international roofing materials in recent years, and is used in domestic high-end buildings.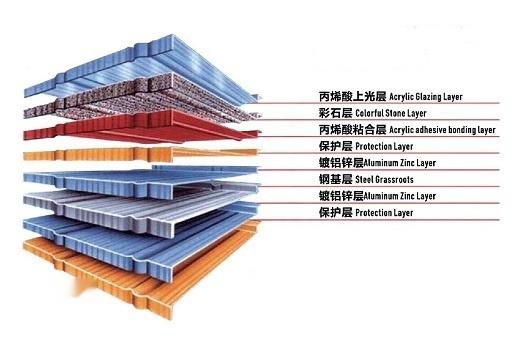 Advantages:
①Earthquake resistance-When an earthquake occurs, the metal tiles will not slide down like ordinary tiles, reducing injuries.
②Lightweight-light weight, reducing the load bearing of the building.
③Convenience of construction-light weight, large area, simple fittings, greatly reducing construction intensity and shortening construction time.
④Economical type—on the roof of an old building, it is not necessary to remove any roofing materials, and it can be directly constructed to minimize waste disposal costs.
Colored stone metal tiles have weather resistance, humidity resistance, salt water spray resistance, impact resistance, acid resistance, alkali resistance, heat resistance, and non-combustibility. The product is based on aluminized zinc steel plate and has a multi-layer protective film treatment. It can withstand severe weather such as severe cold, hail, storms, rain and snow, and extreme heat and earthquakes, as well as natural disasters. It will not crack or age due to this. , Burning in the fire, wind lift, has a long service life.